HelpAge suffered a deep loss on Tuesday, Feb. 4, 2020, as of one of its pillars, Mrs. Indrani Rajadurai passed away, leaving the HelpAge family bereft. She leaves behind a legacy of serving the disadvantaged elder community, with footsteps hard to follow.
Indrani started her journey in HelpAge, at the young age of 26 on 1st January 1977. She dedicated nearly 4 decades of her life to the elder cause. Even though she officially retired from HelpAge at the age of 60, her connection with the organization & the elder cause remained, as she took on the role of Special Advisor. Indrani has been with HelpAge virtually since its birth, she started out as a Sponsored Events Officer, raw on her skills but with great zeal to make a difference in the lives of the less fortunate elderly. She was trained by the founder himself Mr. Samson Daniel and Mr. Philip Jackson and Mr. John .F. Pearson of HelpAge International. She went on to become the first woman officer at HelpAge.
Mrs. Indrani Rajadurai along with Mr. Samson Daniel, Pioneer of Sponsored Walks and Founder, HelpAge India, distributes prizes at the Children Garden School, Chennai in 1979.
Mrs. Indrani Rajadurai, leads the first ever Sponsored Walk with young school students in Chennai.
Her passion towards her work, shone through her tenure, as she went from strength-to-strength and took on further responsibilities, never hesitating even once. Her commitment to the cause of the elderly and her connection with them was indescribable. Her own growth within the organization was rapid, as she went on to become Deputy Director (South) then Joint Director (South), Regional Director (South) and finally retired as National Director (South & West).
"The organization gave me a wonderful opportunity to serve the elders through the younger generation by organizing Sponsored walks in schools which were a unique Education cum Fundraising event in those days". – said Indrani.
New initiatives for the elderly were tested and launched successfully during her tenures such as Pay Roll Giving, Pre-Retirement Training, the first ever Elder Helpline in Chennai, and many more. When the Tsunami struck in the Coastal area in 2004, she was one of the first few people who rushed to the disaster site to help the victims. Few know, that in the disaster, she too had suffered the loss of her near and dear ones, but Indrani kept on working with a fever pitch, putting in all her energy in saving those that were alive and in need of help. It left a deep impact on her.
Indrani was a catalyst in bringing together schools and corporates especially for the southern regions to come forward and show their sensitivity to the cause. Her consistent efforts in sensitizing children on the importance of agecare values and being sensitive to the elderly have left an indelible mark in the hearts of many.
Thanks to her efforts the Tamil Nadu State Government recognized HelpAge as a leading national level NGO and appointed her as a member of their Planning Commission, member in their Grant approval committee and as an advisor for Government Programs. Positions she continued to capitalize on, to make sure that the elderly and the less fortunate were not forgotten. For her efforts she had been conferred with the Best Social worker Award twice. She also received the Best Woman Achiever Award by corporates.
Mrs.Indrani Rajadurai, recevies the Women's Achiever Award from Scope International.
Mrs.Indrani Rajadurai, recevies the Best Social Worker Award from former Late Chief Minister J. Jayalalithaa.
Mrs.Indrani Rajadurai, recevies the Arivukalanjiam Award (2010) from the Government of Tamil Nadu durong an award ceremony.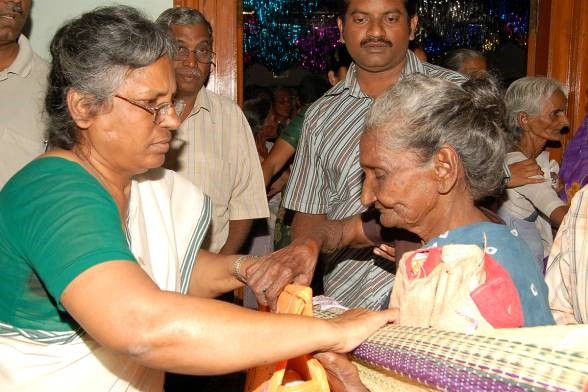 "The blessings and smiles of the elders has encouraged me to achieve my goals successfully. I feel proud that I served HelpAge for so long and I thank God for using me as a small instrument to put smiles on ageing faces." – Indrani.
WE WILL MISS YOU DEEPLY!