As India continues to fight against the pandemic, elders are struggling to survive. HelpAge India is reaching out to the elders, homeless, migrant workers and daily wage earners who are having a hard time and are the worst hit. HelpAge India is distributing Free Meals for Survival to elders and their community in rural and urban areas, through its Mobile Healthcare Units.
Ameesha Begum, 90 years, from Delhi's Subhash Camp, Dakshinpuri, lives alone for the past 40 years. Her son, who lives close by, drives an auto rickshaw and used to support her as much as he could before the COVID- 19 lockdown. Survival today has become very difficult for him as well, since his only source of livelihood has now stopped due to the lockdown. He along with his wife also comes to collect meals for survival whenever they can at the slum distributions.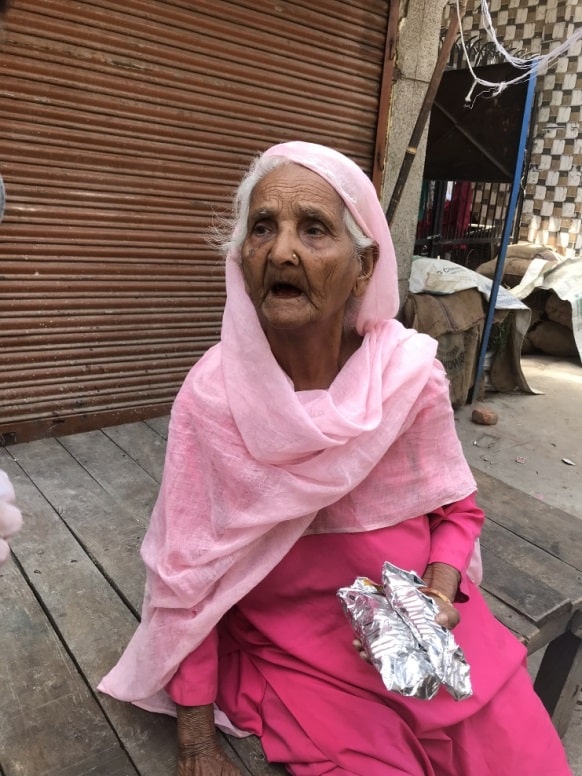 On asking about COVID-19, she quickly covers her face in fear with herduppatta. She comes to the meal distribution camp as she has nothing and no ration to survive on. She has come after 4 days to collect her meal, as it is difficult for to walk and come every day to collect her meal. She says she hasn't eaten for the past 2 to 3 days. She has milk to survive.
She has been getting Rs.1500 pension per month, regularly since the past 2 years. She used to go with her son to the bank to collect her pension by giving her thumbprint at the bank, but since the lockdown and her own physical frailty she hasn't been able to collect her pension. HelpAge's "meals for survival" are her only source of sustenance. No one comes to her aid she says. She quietly asks her for some money and looks pained. This is the story of numerous elders in urban slums in India who are unable to support themselves and are living virtually hand to mouth during the lockdown.
Shanti Devi, 70 years lives with her son and his family in Arjun Nagar in Gurgaon. Her son doesn't have a stable source of livelihood and the whole family survives on the work that she does; she is a masseuse. After the lockdown, there has been no income; her family is struggling to survive. Talking about her inability to earn and provide food for her family, she broke down.
She stood in a que as soon as she heard about HelpAge India's ration distribution. The ration kit is not only going to help her but her entire family to survive for the next few weeks. As she spoke about the hardships her family is going through she broke down. Due to COVID-19, many elders have lost their livelihood and are left without food or money. HelpAge India is distribution Family Survival Kits to elders, migrant and daily wage earners.
Sushila Devi, 60 years, of Subhash Camp, a 'basti' in Delhi's Dakshinpuri comes everyday to the collect her "meal for survival" that HelpAge India is providing the needy elders, poor migrant workers, slum dwellers and those whose have lost their livelihood during the COVID-19 lockdown.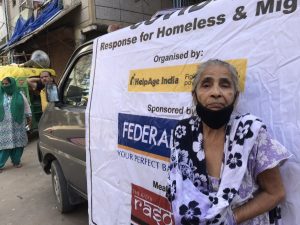 I have come alone, I didn't want to disturb my daughter, you see she is sleeping, I Just want to collect my lunch, as there is no other source of food in my house," says Sushila.
She stays with her Daughter & Son-in-law who use to work selling shoes on the footpath in the national capital, this use to be their sole source of livelihood, with the COVID-19 lockdown, this only source of income has stopped. Struggling for survival, she comes every day and stands quietly in the line to collect her lunch so she isn't a burden on her family and is another mouth to feed.
There are millions of people who are homeless and have no means of income or support to survive. Your contribution can provide a meal for them, and help them survive. Please realize that you can make a difference in someone's life today. And it will make a difference in your own, as you do.